A Meath-based family-owned food company specialising in natural flavours, which was only established a year ago, has been awarded the very top honour at this year's prestigious Blas na hÉireann, The Irish Food Awards, which were held in Dingle, Co. Kerry over the weekend – the largest annual gathering of indigenous food producers anywhere in the country.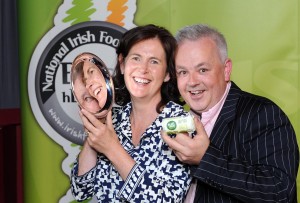 Blast and Wilde, which is based in Slane and run by Graham and Bernie Canning, was chosen as the Bord Bia-sponsored Blas Supreme Champion 2014 from a huge entry of more than 2,000 products submitted for consideration at the hugely-acclaimed competition and showcase for Irish food producers. The Phoenix Cinema in Dingle, where the winners were announced, was abuzz with excitement following a hugely successful three days of the Dingle Peninsula Food Festival which hosts the awards and celebrates the vitality and vibrancy of the Irish food sector.
'We are absolutely thrilled,' said Bernie Canning of Blast and Wilde. 'We only got the business off the ground a year ago and since then we have been making flavoured butter including Roast Garlic and Pesto, Black Olive Tapenade, and Chilli, Lime and Coriander. Graham and I both have a passion for food and flavours and we are honoured to have taken to the top award at Blas as well as first, second and third in the dairy butter category.'
Chairman of The Irish Food Awards, Artie Clifford congratulated the winners, saying the number of entries broke all records this year. He said that a win at Blas opens doors to producers who want to get established or expand into new markets.
"Blas na h-Éireann, The Irish Food Awards, is about recognising passionate, dedicated producers who are serious about marketing their fantastic Irish food and drink into markets at home and around the globe. Everyone who took part is a winner – having reached the finals already puts them at the top of their industry," said Artie.
For a full list of winners click here