The Blas awards are the biggest blind tasting of produce in the country, and the criteria on which the product is judged as well as the judging system itself, which was developed by Blas na hÉireann with the Food Science Dept of UCC, is now recognised as an international industry standard. We also work with TU Dublin for the judging of our bread categories.
Our judges come from a range of food backgrounds; they are chefs, restaurateurs, academics, journalists, authors, food champions, caterers and enthusiastic home cooks. Retailers with a vested interest or producers who have entered the competition are never involved in the judging process.
Finding the very best
Developed with UCC and the University of Copenhagen our judging process is now recognised as an industry 'gold' standard worldwide. Products entered are blind tasted and competition is extremely tough, and regardless of the number of entries there are only five finalists in each category. Blind tasting means that all packaging and identifying features are removed from products before being presented for judging. This creates a level playing field for products from both large and small producers.
UCC working with Blas
We work with UCC to manage, co-ordinate and implement the scientific element of the awards. The team in UCC is led by Prof. Joe Kerry, in the School of Food and Nutritional Sciences, University College Cork. The group is involved in the logistics of food intake and logging, food handling, sampling and preparation, and in the sensory training of judges and evaluation of score results The group has very strong research ties with the University of Copenhagen in Denmark and this is demonstrated through the active participation of Professor Derek Byrne who is deputy head of sensory science at Copenhagen University and leader of the Food Unique Network, who contributed significantly to the development of the sensory science element for these awards.
Find out more about how we work together in UCC's Independent Thinking Magazine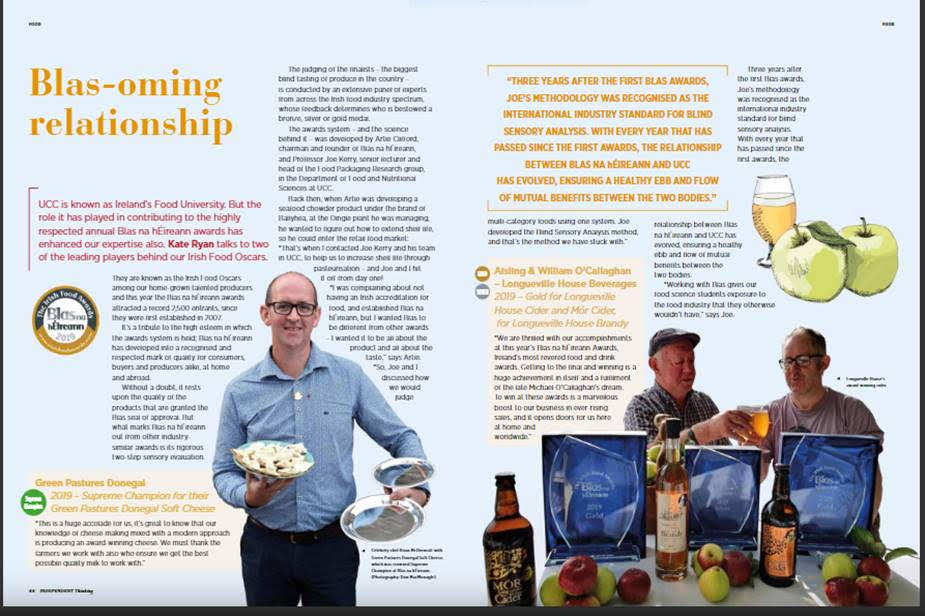 The Food Packaging Group was requested to participate in the Blas Awards via industry contacts who formed part of the organising committee for the awards. The Food Packaging Group at UCC works closely with the Irish food industry on issues relating to; product development, shelf-life evaluation, quality assessment and sensory evaluation of foods and on all issues pertaining to food packaging. The group's participation in these awards is an endorsement of the group's reputation in these areas.
Video of behind the scenes judging at UCC
The School of Food and Nutritional Sciences at UCC provides high caliber graduates for the national and international food industry and competitive businesses, food research and teaching careers. As well as its long-established commitment to undergraduate teaching, the range of postgraduate degree courses available further illustrates the commitment of the School to student education to Masters and Ph.D level.
Read more about THE SENSE AWARD SCORING SYSTEM