A new survey of more than 2,000 Irish food producers across the island of Ireland shows that while they are experiencing substantial growth, issues such as 'cash flow', 'distribution' and 'access to financial advice' are major challenges, particularly for producers ready to develop into national and international markets.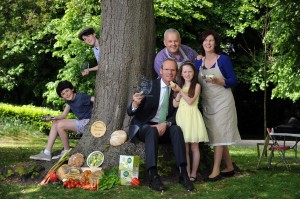 These survey results were announced at the launch of the 8th annual Blas na hEireann, The Irish Food Awards by the Minister for Agriculture, Food and the Marine, Simon Coveney on Tuesday 26th May 2015.
This year's Irish Food Awards will see more than 2,000 Irish products blind tasted and scored by over 350 judges who will select the Gold, Silver and Bronze winners in over 90 produce categories.
The Awards carry with them a huge amount of prestige and winning produce is used as a quality benchmark for Irish products amongst national and international retailers, buyers and distributors alike.  Online entries close on 17th June 2015 and can be completed on www.irishfoodawards.com.
The 'Producer Power Survey' showed that over 90% of producers across the island have seen their operations grow in the past year and a massive 95% feel confident that their businesses will continue to flourish throughout 2015.
Furthermore the vast majority of producers have said that government and State agency supports have been vital to their business development – from the Local Enterprise Offices in each county, Teagasc, Bord Iascaigh Mhara, and Údaras na Gaeltachta for smaller producers to Invest NI, Enterprise Ireland and Bord Bia for the bigger international operators. This is a big vote of confidence in the government's strategy to get cross agency support to assist and develop the Irish food industry.
"It is extremely encouraging to see such high levels of optimism amongst Irish food producers," said Minister Coveney. "I am very pleased to see that producers are experiencing the levels of support that they need from government-funded agencies throughout the country and it is impressive that 48% of those responding to the survey were considering exporting."
He added "Winning at The Irish Food Awards has proven to be of huge business benefit to companies, and has put the finest produce from these counties on the map."
The winners of these prestigious Awards including Supreme Champion and Best Artisan Producer will be announced at the Blas na hEireann Awards in Dingle on 3rd October 2015.
–      Ends –
For further information and visuals please contact Sue James, Sue James PR on 085 7336981 or email pr@irishfoodawards.com
Other key survey findings:
45% of producers cited 'cash flow' and 'financial advice' and more than 50% cited 'distribution' as the biggest challenges they face in terms of business growth.
25% mentioned 'securing investment' as their biggest challenge.
48% of respondents said that they were business-ready to look at exporting their produce.