Our 2021 Producer's Champion has shared some great recipes with us using some of his favourite's from the Blas larder of past winners
Wild Atlantic Way Fish Pie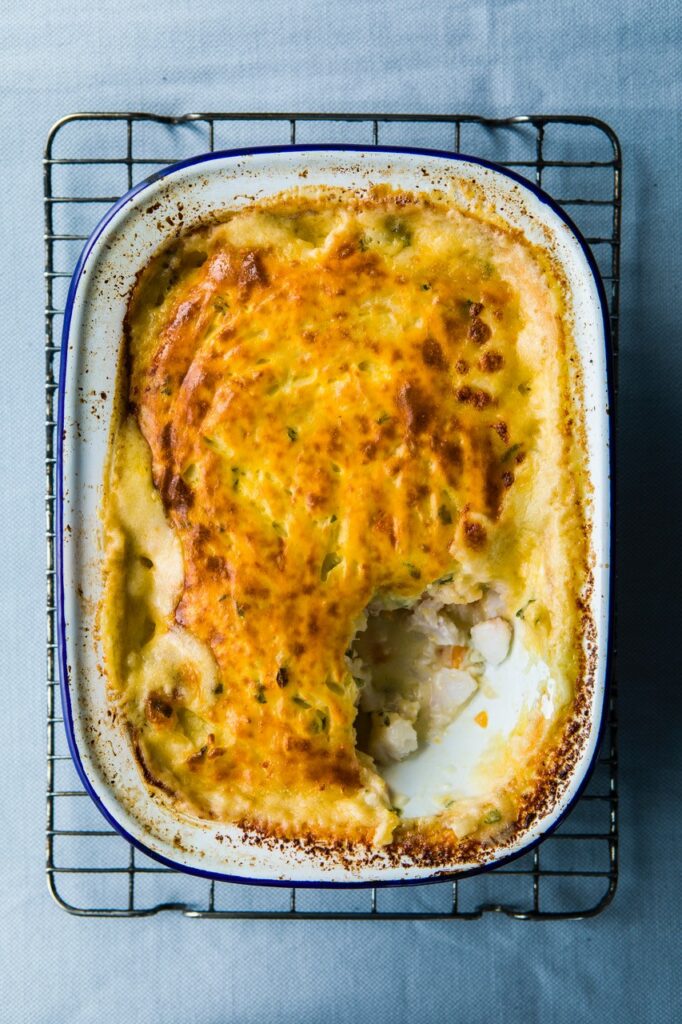 Wild Atlantic Way Fish Pie
Serves 6
350g Atlantic Treasure Mackerel Fillets (Plain)
350g  Haddock  Fillets
50g Butter
50g Plain Flour
500ml Milk
1 Bay Leaf
100g Cheddar Cheese, grated  
750g Potatoes Cooked & Mashed
Bunch Spring Onions
50g Butter
2 Cloves Garlic Crushed
2 Carrots Peeled & Diced
White of 1 Leek Sliced
4 Sticks of Celery Diced
1 Onion Peeled & Diced
50g Rapeseed Oil
Chopped Fresh Parsley
Fresh Ground Black Pepper
Method:
Peel and cook the potatoes, drain and mash them then leave aside. Melt 50g of butter and sweat chopped spring onions and mix in through mashed potato with a pinch of pepper.
Place the smoked mackerel and haddock fillets in a pan with a bayleaf and cover with the milk. Bring to the boil and simmer for 7 minutes.
Remove fish from the milk and place the fish in tin foil, leave aside but not in the oven.
For the suave melt the butter in saucepan and add flour to make a roux, then add whisk in the milk the fish was cooked in. season with pinch of pepper whisking all the time. Simmer the sauce until it thickens. Add the 50g of the grated cheese. Hold back remaining 50g for the top of pie.
In rapeseed oil sweat the chopped onions, garlic, carrots, leeks and celery until the vegetables are soft and cooked. Season with fresh ground pepper.
Place the fish and vegetables in a oven proof dish and pour over the sauce and gently combine everything together. Place a layer of mashed potato on top with the remaining grated cheese. Bake in pre heated oven at 200 degrees C for 40 minutes.
Allow to rest for 10 minutes before serving and serve with chopped parsley on top.

Jam Roly Poly Swiss Roll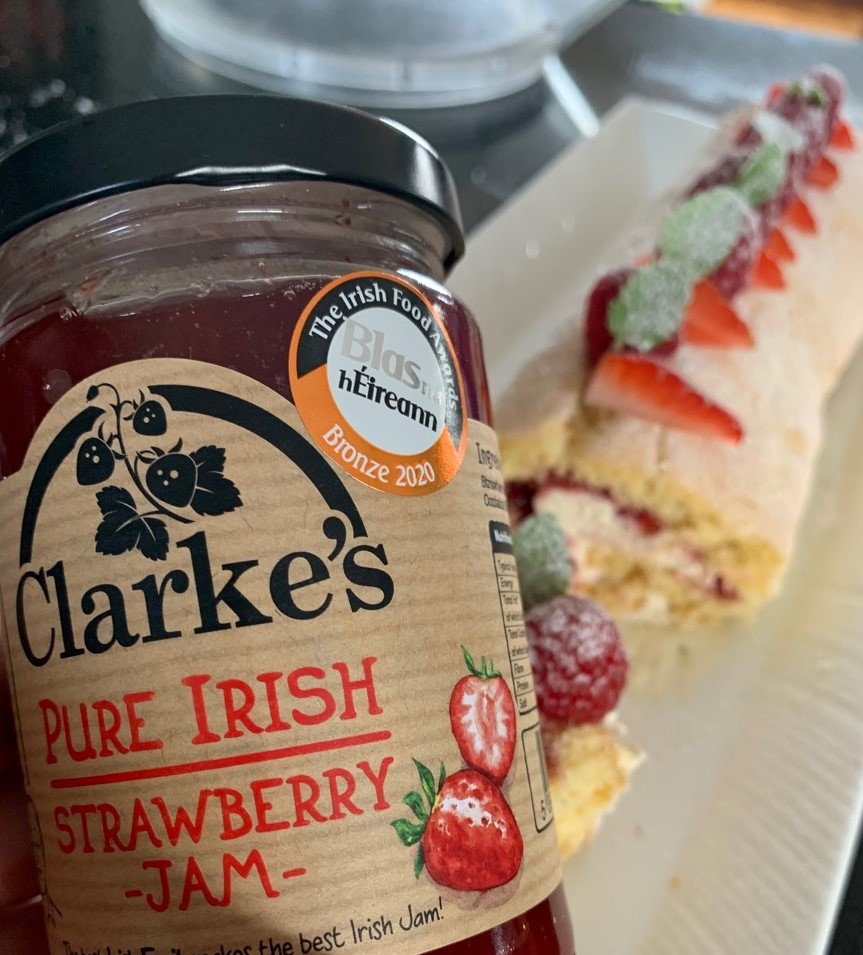 Ingredients:
2 Large Eggs 
50g Castor Sugar 
50g Self raising Flour 
To Decorate:
Clarkes Strawberry Jam (Or Raspberry)
20g Caster Sugar 
150ml Cream Whipped 
Fresh Strawberries or Raspberries 
Method: 
Preheat an oven to 170 degrees C
Line a Swiss roll tin with greaseproof paper
In a bowl whisk the eggs and sugar together until light and fluffy.
Sieve the flour into the eggs and sugar in two stages and gently using a spoon fold in the flour.
Spread the mix onto the tray and bake for 12 minutes.
Once baked scatter some sugar on a clean cloth or fresh sheet of greaseproof paper and tip the sponge out onto the sugar.
Immediately while warm roll the sponge with either the cloth or grease proof inside the roll.
While allowing to cook whip the cream and once sponge is cool open back out again (you will need to support it with your hands)
Spread with a generous layer of jam, then cream and it will roll back into into round shape.
Decorate with sprinkle of sugar and some fresh fruits.