At present we are conducting a complete and thorough review into the matter and we expect to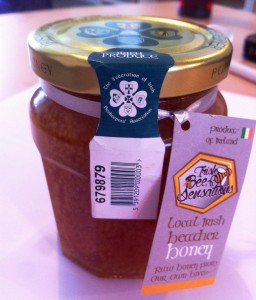 complete this review shortly.
The product in the picture is the product which won the award in 2014
Each producer who enters the awards must provide their Irish food business registration number from their approving body (example EHO/HSE/Dept of Agriculture, etc). In this case the producer submitted their Environmental Health Office approval number.
The product was also submitted with the Federation of Irish Bee Keepers approval seal, with their registration number which is the registered number of T Ruttle.
As always we conduct ongoing monitoring that award winning products which are available to consumers are of the same quality and integrity which was received and judged by our judges. Please note that products are reviewed on an ongoing basis to ensure that our logo is not misused.