We are delighted to be working with The Local Enterprise Office (LEO) Galway to sponsor Best in Galway and Best in Farmers Market Galway at the Blas Na HEireann Awards in Dingle later this year.
Breda Fox, CEO of the LEO said "we are committed to supporting local food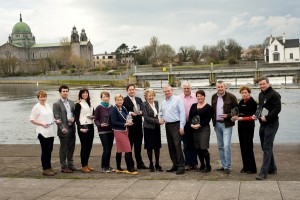 producers and this is another step in our active efforts working with the food industry in Galway city and county".
Artie Clifford, Chairman, Blas na hEireann, The Irish Food Awards said: "We are absolutely delighted that the Galway Local Enterprise Office has joined forces with us to recognise and reward the best producers in Galway at this year's Blas na hEireann, Irish Food Awards. It is indicative of their huge support for local produce and the assistance they are prepared to offer producers to find new markets and customers for their products. This year's Blas Awards are now open for entries and we would encourage all quality Galway producers to follow in the footsteps of previous Blas winners by visiting www.irishfoodawards.com."
Blas na hEireann – The Irish Food Awards, now in their 7th year, were founded to create a benchmark for quality Irish produce, and they reward and recognise the driven, passionate, talented producers that make it. Blas na hEireann 2014 is now open for entry at www.irishfoodawards.com and as always the judges will be searching for the very best of food and drink produced on the island of Ireland. All Irish producers, North and South, are invited to submit products that are commercially available to the public. June 17th is the final closing date for entry.
The LEO is currently recruiting for the new , a new training programme, Office Food Academy Start aimed at supporting and nurturing start up food producers. Bord Bia, SuperValu and the Galway Local Enterprise Office have joined forces on this initiative to provide a consistent level of food processing and marketing knowledge to new and early-stage food business owners. For more information on applying for the programme please call 091 565 269 or email:info@leo.galwaycoco.ie