Cian and Paul from Pure Food Co brought home to Waterford a Gold award for their Sundried Tomato & Chilli Pesto as well as a Best in Farmers Market Award, sponsored by Waterford LEO. You can find their products in Ardkeen Stores, Pettitts of Wexford, Quishs in Tramore, Eurospar Kilkenny and in Dungarvan Farmers Market.
You can find more details on Pure Food Co and our other winners and finalists in our 2015 directory or you can find more details and updates from Cian & Paul on their Facebook page www.facebook.com/purefoodcompany
We set up the business in March 2014.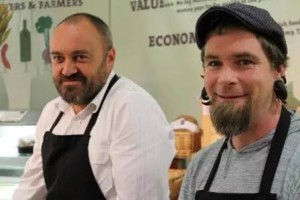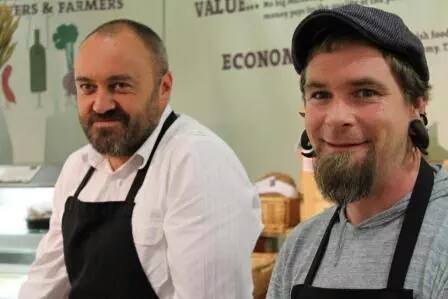 Both myself and Paul are Qualified Horticulturists and we met while teaching a course on growing veg organically. We decided to give up on the teaching (for now) and set up our own business producing our own range of herbs and leaves. We both love to be outdoors in the garden (Cian won RTEs Supergarden and subsequently went on to receive a Silver medal at Bloom in the Park in 2014) and foraging for our native species of edible plants and fruit.
We soon came to realise that we could not compete with the big boys and decided that we needed to use our produce to create our own products. We produce a range of pickles, relishes and preserves but our main line of products are our pestos. We produce 9 different pestos depending on what is available at a particular time of year. From wild garlic to nettle to coriander and many in between!
We both get on very well and have great banter in the kitchen and when out in the growing area. My personal favourite aspects of the job is developing new recipes, tending to our growing and foraging for wild woods.
Typical day is up at 4am to harvest our herbs, in the kitchen to produce by 5 and in the market by 9! We make everything fresh for the markets and shops. Tough work but well worth it!
Our best day since starting the business was receiving the Gold medal at the Blas na hEireann awards. Our hard work and dedication was recognised and we were chuffed to receive the award.
Our ingredients, well we grow what we can, all to organic principles although we are not certified organic. Sometimes the herbs need to be supplemented and we only use local suppliers. All our ingredient and packaging are locally sourced, we are firm believers of keeping business in Ireland.
Three words to describe us; hmmmm. . . fun, creative and hard working!
We are very busy coming up to Christmas this year, we have our products in numerous hampers, but most of our time will be spent doing in store tastings to meet and greet our customers over the festive period.
Food that represents Christmas to me has to be my Dads potato stuffing, oh and a boozy trifle!!