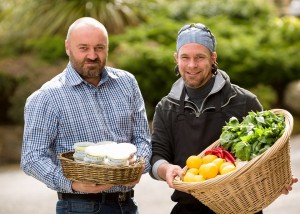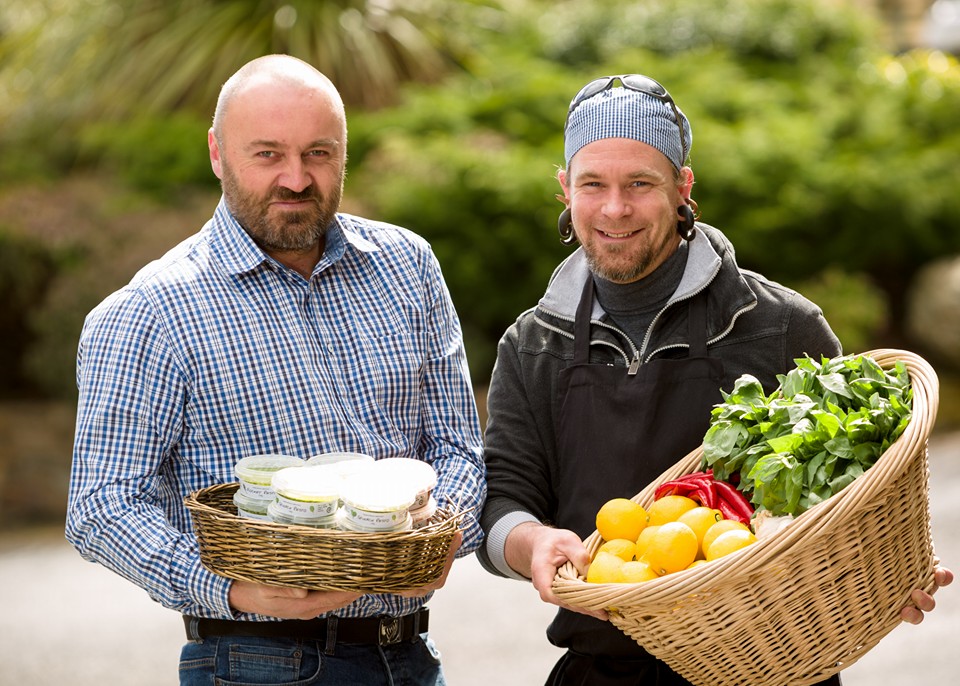 Cian and Paul from Pure Food Co first brought home to Waterford a Gold award for their Sundried Tomato & Chilli Pesto as well as a Best in Farmers Market Award in 2015, taking home another Gold in 2016 along with Best in Waterford and Best in Farmer's Market for Waterford. You can find their products all over Ireland, check where your nearest shop is here
You can find more details on Pure Food Co and our other winners and finalists in our 2016 Directory or you can find more details and updates from Cian & Paul on their Facebook page www.facebook.com/purefoodcompany
When & why did you start your business?
We set up the business in March 2014. Both myself and Paul are Qualified Horticulturists and we met while teaching a course on growing veg organically. We decided to give up on the teaching (for now) and set up our own business producing our own range of herbs and leaves one drunken evening over a bottle of brandy! We both love to be outdoors in the garden (Cian won RTEs Supergarden and subsequently went on to receive a Silver medal at Bloom in the Park in 2014) and foraging for our native species of edible plants and fruit.
We soon came to realise that we could not compete with the big boys and decided that we needed to use our fresh produce to create our own unique products. We produced a range of pickles, relishes and preserves.
We had a glut of spinach on the allotment one week and we decided to make it into a pesto for the local market and it sold out within a couple of hours and we thought "Aha. . . we may have stumbled on something here!" We then began to experiment making all sorts of pesto from nettle to wild garlic to sundried tomato. I think at one point we were making 12 different types! Over the next year through research, tastings and markets we whittled the range down to the four we have today. We were not able to keep up with the demand of growing our own herbs and we now get our herbs from reputable Irish suppliers.
Who is your food inspiration?
Well I grew up eating both my parents' home cooking which I guess is where my love of food came from. They are both very good cooks so I was brought up eating good, nutritious and wholesome foods.  I am told that there was nothing I wouldn't eat (except olives though that has been remedied!) growing up. I never really cooked until I moved out of home and had to learn by myself through experimenting . . . some worked, some failed hilariously!
Now I get my inspiration from the many, many wonderful chefs we have in this country from Neven Maguire and Dylan McGrath to Oliver Dunne and so on. I am still experimenting at home and have been recently trialling some of Dearbhla Reanolds fermentation recipies and techniques.
Inspiration for food though can come from anywhere, from my travels, to people I have met; some of the small producers in this country are making some truly inspirational food.
What do you love about your job?
What do I love about my job? Hmmmm . . .  I just love producing healthy food that makes people happy, it's as simple as that really.  I love when customers come back to us thanking us and singing our praises but for me, I like the idea that I am doing my bit and helping fight this whole obesity epidemic by producing simple healthy food.
What is your typical day?
I have two types of typical days. My working day and my days off which are becoming increasingly rarer these days!
A typical work day involves getting up at 4.30 or 5 and picking up herbs for the day's production. We only use the freshest locally sourced herbs we can find. Then it is out to the kitchen for a 12 to 16 hour day of production. It is a long and tiresome day but we insist on the freshest possible product going out to our customers so we make to order and have it sent out within 24 hours. Days off are spent relaxing in the outdoors with my partner Kelda and little boy Rowan.
What was your best day since you started this business?
Winning the Blas na hEireann awards two years running is up there but for me personally it has to be the day we secured the deals with our wonderful distributor National Organic Products and Dunne's Stores. These two deals propelled us from being an expensive hobby local producer to a National producer. You can now get our range in Supervalu stores nationwide, selected Dunne's Stores nationwide and a host of independent stores nationwide.
Where do your ingredients come from?
All our ingredients are locally sourced. Our herbs come from McCormack's family farm in Co. Meath.
Tell us about the people you work with
Paul is my business partner and the less said about him the better!
On a more serious note. . Paul looks after the business aspect of the company and were it not for him we would not be where we are today. He has tirelessly communicated and harassed at times to broker deals to push the business forward. Paul I tip my hat to you, you do a thankless job that I could never do. There have been times when I was down and feeling that this was never going to work but Paul kept on pushing (sometimes it seems pulling moneys out of nowhere to keep us afloat) and in the end succeeded on getting us through our bad spells.
It helps that we get on well together and have a friendship outside the business. We never shut off but we can have the banter be it in the kitchen or around a campfire in the woods with a beer in hand.
What three words would you use to describe yourself/your business?
Tenacity, Ambition and Creativity.
What do you think is the key to success?
Patience and stubborness.  We have been at this now for over three years and are only in the last couple of months beginning to see the fruits of our labour. It has been three very difficult years for both of our families but the corner has now been turned. We set up the business with nothing and promised ourselves that we would not get into debt building the business. We have been true to our word, every penny the company has made has been reinvested to help it grow. It has got us tom where we are now but by god has it been a hard slog.