Bainne Codladh were the winners of Best Artisan at the 2015 Blas na hEireann Awards for their Lullaby Milk. You can find out more about Lullaby Milk and how it can help with a good nights sleep on www.lullabymilk.com or to find out more about this and other winners and finalists from 2015 you might like to view our 2015 directory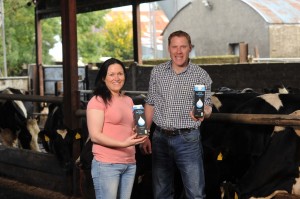 When & why did you start your business?
2005, discovered a 100% natural wholesome product which aids people with sleep disorders.
What do you love about your job?
I love when mothers ring saying how their children cannot sleep without Lullaby Milk
What is your typical day?
Lullaby Milk day… Milk the cows before day break; bring the milk into North Cork for bottling by 6am, return at 7am to continue working on the farm until 10, then a few hours in the office before returning to the farm at 3 to milk and finish remainder of farm tasks. Usually reply to customers on returning home via e-mail or Facebook.
What is your favourite part of the day?
Seeing Lullaby being packed in North Cork Co-op
What was your best day since you started this business?
Winning Best Artisan at Blas na hEireann food awards in October
Where do your ingredients come from?
100% natural cows milk
Tell us about the people you work with?
Hard working, honest very dedicated to the job
What three words would you use to describe yourself/your business?
Natural, honest, wholesome
What do you think is the key to success?
Do less, better
Has there ever been one single moment which has changed how you look at your business?
Plenty!
Has there ever been a situation which started out as a negative but turned out for the best?
A customer once rang from Dublin on a June bank holiday weekend saying she could not get Lullaby milk and her long weekend would be ruined without it. She was willing to drive to Cork even! Luckily we were able to get the milk up to her on a truck and she met the driver that night to collect.