Marie from The Sea Gardener won a Blas na hEireann award in 2015 for her Mushroom & Olive Caponata, bring a bronze home to Waterford. You can find out more on www.theseagardener.ie or to find out more about this and other winners and finalists from 2015 you might like to view our 2015 directory
When & why did you start your business?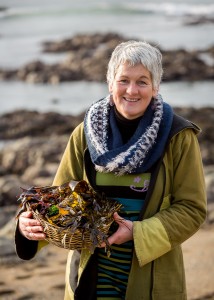 It evolved from my interest in wildlife and rocky shore ecology. I became a seaweed forager and after a few years wrote a book in response to requests for recipes/ info, then started making seaweed-based healthy snack bars and caponata etc. in response to positive feedback at foraging events & talks! So the business grew from my hobby. I'd like to hold on to that combination!
Who is your food inspiration?
Originally my mother. I grew up on a farm, with our own milk, eggs, meat, fruit and veg, home baking, always picked wild mushrooms and blackberries. My mother regarded sliced bread with derision! Now appreciate how good all that was.
What do you love about your job?
Learning something new every week. I love doing forages, meeting people from all over the country, exploring new places, during spring & summer.
What is your typical week?
Baking / Making for half the week, then delivering, doing tastings and the myriad tasks – shopping, admin, social media, planning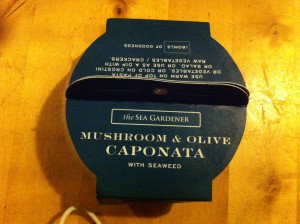 …..
What is your favourite part of the day?
I like lunchtime – sit down for a few mins hopefully satisfied with some work completed for the day and a sense that the rest will get done!!
What was your best day since you started this business?
Last September, I got an email from a customer – a cyclist who takes my bars on his trips and was totally positive about them, giving specific reasons why. He "got" the reasons why I make the bars and that was very gratifying.
I love every day I'm on a beach foraging and have met the nicest of people doing that over the years. It's a very energising place to be and there's a high level of appreciation and enjoyment from the people who come along.
Tell us about the people you work with?
My family – husband and 2 adult children  – help me mostly. They are brilliant with practical help, feedback, sounding boards….
What three words would you use to describe yourself/your business?
Innovative, Passionate (wish I could think of a better word as it's a bit hackneyed at this stage!) and diligent.
What do you think is the key to success?
If you mean financial, I don't know….yet:-)) In the broader sense, success has to be when you're doing something you love.
Has there ever been one single moment which has changed how you look at your business?
Yes – the day I sold the last of my books  – The Sea Garden – after just 10 months, and had to do another print run! Exceeded expectations.