Producer: Olivia Curran, An Olivia Chocolate
Awards: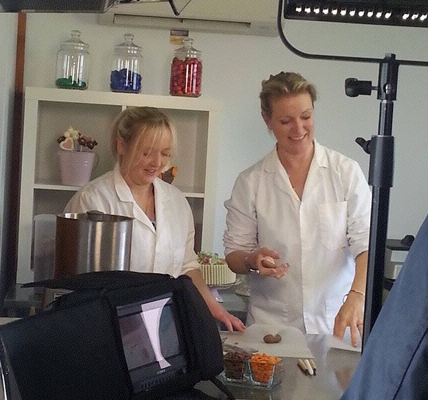 Supreme Champion – Blas na hEireann 2013
Gold in 2013 & 2014 – Luxury Taste of Ireland Chocolate Box
Silver 2014 – Coffee-Choc Chocolate Bar
Gold 2013 – Irish Cream Hot Chocolate Pot
Gold 2014 – Irsh Cream Coffee Mocca Pot
When did you start your business?
Easter Sunday 2010
Who is your food inspiration?
Willy Wonka and Heston
What do you love about your job?
Im a chocoholic, I love every bit of my job, but not the long hours
What is your typical day? I start at 10 or 11 every morning. I usually start late because I will only have finished work between 3-5 that morning. I might quickly look at the emails and may have to deliver an order just finished a few hours earlier. Then back in the kitchen while tempering a batch of chocolate I will make a few calls to members of the Westmeath Food Network or Fairs that I am meant to attend. Then I will spend all day moulding chocolates or lollipops , packing, foiling and wrapping.
What is your favourite part of the day? When the last hot chocolate pot is put in the box, the box is sealed and the pressure is off and I can go to bed knowing all is done and ready for delivery in the morning.
What was your best day since you started this business? The 26th of May, I spent 5 hours filming with Rachel Allen for her new series " All Things Sweet " which will be on RTE 1 on Wednesday night the 26th of November. I told her when they drove into the yard it was very surreal it was like the telly had come out to meet me. While in the kitchen I poked her and said to the crew "she's real!" I can't believe she is in my little kitchen and I couldn't keep a straight face.
Tell us about the people you work with?  I get great help from my family. My nieces and nephews are taste testers!
What three words would you use to describe yourself & your business? Quirky, Fun and Tasty
What do you think is the key to success? Use the best ingredients. Make your product different to everything else on the market, no point in reinventing the wheel. Believe in yourself and your product, help as many people as you can along the way, hopefully it will come back to you in other ways.
You can find out more about Olivia's delicious creations on http://www.anoliviachocolate.com/