The Wild Irish Foragers & Preservers won Best New Product, sponsored by Invest NI, at the 2015 Blas na hEireann Awards for their Honeysuckle Shrub which also took home a Gold. They are a 5th generation family farm in Co.Offaly.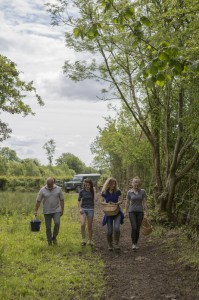 In Sharon's own words "it is small, the gates might not hang perfectly, the hedgerows are pretty wild, and grass grows in the middle of the lanes, unusual wild flowers spring up hither & thither as they wish to. We have an old reliable Leyland, 5 kids & a love for our patch of Ireland. My sons, my husband, my father in law, his father & his father before him have all walked this land, cared for it, loved it & struggled to make a living but they have all have strived to keep it in good stead for the next generation."
In 2013 Sharon & Gordon's food business was born and their syrups, sauces, fruit cheeses, jellies, pontack & shrubs are available in a number of outlets nationwide, as well as food events and markets. You can find out more on www.wildirishforagers.ie or to find out more about these and other winners and finalists you might like to view our 2015 directory
When & why did you start your business?
We started the business in 2014. We never actually sat down & said "let's start a business". We just had been making Syrups at home for personal use for years & had progressed to a local Famers Market once a week & I guess we followed the business from there. I know it may sound a bit loony but it kind of started itself!

Who is your food inspiration?
Kit O Ceirin is the first name that springs to mind. Kit & her husband Cyril were at the forefront of modern day foraging & she has been as huge help & inspiration to us. Other supports & inspirations that spring to mind would be JP McMahon and John Whelan
What do you love about your job?
The changing seasons, the meeting new people, the chance to work as a family, the knowledge that what we are doing is working towards being able to preserve the natural wild beauty of the farm & hand it on to the next generation in good stead
What is your typical day?
With a family of 7 the housework comes first! Most days during foraging seasons Gordon will be down the lanes picking & our afternoons will be spent processing the wild bounty i.e. topping & tailing etc. As the majority of our products have a long making process we do our prep the evening before to be ready for making the following day. In between all of this there will be phone calls, orders to get out, labelling to be done, the dreaded paperwork to be handled & hopefully some shut eye!!

What is your favourite part of the day?
Ahhh that's the easiest one to answer. ..We usually start a day with a to do list & the after evening meal ritual of ticking all the done things off the list is a great feeling. During the drier months though it is lovely to take a summers evening walk down the lanes with the forager & enjoy the peace.
What was your best day since you started this business?
There have been so so many wonderful days since we started. We have won so many fantastic awards from Blas na hEireann, All Ireland Farmers Market, Taste of Cavan, McKennas Guides & so on. We have done a few TV slots & been in print in National newspapers a few times but the BEST day happens again & again when we see our daughters working away on our stand at various festivals around the country chatting to customers & having fun together or our son heading off with his buckets to pick whatever is in season & singing at the top of his voice in a hedge or the evenings they all spend at home with us chatting & laughing whilst the top & tail all sat around the kitchen table

Where do your ingredients come from?
We handpick all our raw ingredients from the meadows, hedgerows, woodlands & boglands on & around our farm
Tell us about the people you work with?
Ahhh those people are my husband Gordon (Head Honcho & Chief Forager), our daughters Emily & Jane & our son Stuart. The other two boys Norton & Jordan help out when they are home. Even my mother in law June who is now in her 80's has been known to pluck a few Dandelion petals too!!. Gordon is The Main Forager along with Stuart. The girls do some of the Foraging too but the lads think they are better at it!! Emily with her long curly hair tends to spend most of her foraging days trapped by some bramble & yelling for her brother to free her!!!
Emily & Jane will do most of the labelling etc whilst enjoying some sister bonding time. Jane is 22 & Emily is 15 so Jane loves this time with her to fish out all the information on school, boys etc.

What three words would you use to describe yourself/your business?
Traditional, Family-run, Farmbased
What do you think is the key to success?
I think the key to success is a very personal matter. Everyone measures success differently. I see success as balance. Being able to have a good quality of life balancing work & personal life & striving to be content & happy
Has there ever been one single moment which has changed how you look at your business?
I guess it must be when we realised that the little stand at the local Famers Market could actually grow into a business that could sustain us & save the farm. The business means a lot to us & give us the opportunity to work with the farm as opposed to on it!!
Has there ever been a situation which started out as a negative but turned out for the best?
When we started this business my father in law really couldn't see what or why we were doing it. He couldn't grasp the concept of farming by allowing nature to dictate. To be honest he thought we were crazy. However, he gave us his support & now at 84 years of age he has found a reawakened appreciation of the wild on his farm that had been beaten down & pushed aside by so many years of farming the expected & conventional way. It is so lovely to have him point out good foraging spots on the farm to us.