Ann Marie from Annies Delights
Like so many producers we meet Ann Marie is, in her own words, a one woman show! Since making the move from her 9-5 in 2019 she has become the CEO, Product developer, marketing team, accountant and chief in charge of everything at Annie's Delights!

What we at Blas have also seen is that she also does what is critical to the success of small producers, she works with other producers! We have met her alongside fellow producers at markets, sharing deliveries, insights and support.
At Blas the awards are based on blind tasting, our judges review solely on the food they are tasting, they don't know who has made it or where it is coming from. This blind element is a key part of our judging to allow a level playing field for all. However, once the judging is done we love nothing more than learning all about the producers just like Ann Marie from Annie's Delights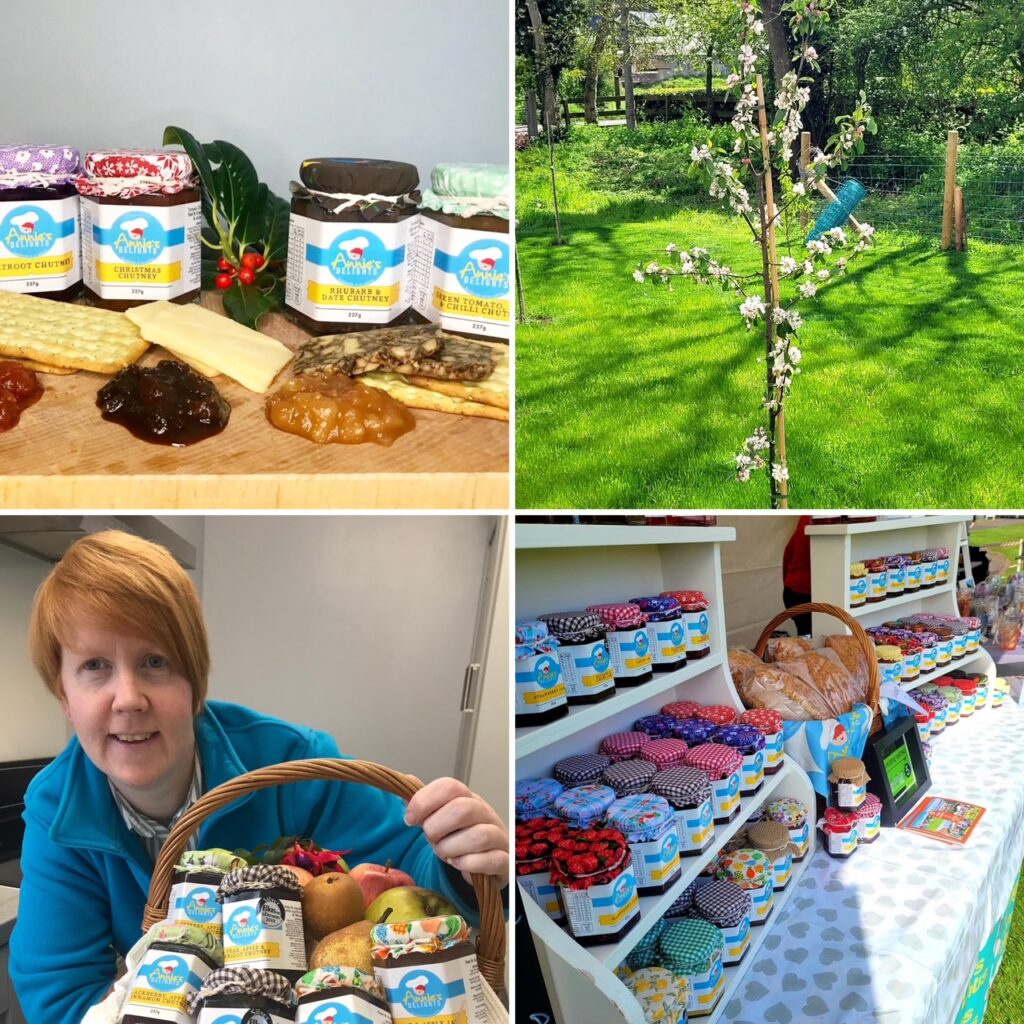 When & why did you start your business?
Like a lot of artisan businesses Annie's Delights started as a hobby about 7 years ago. A love of cooking and baking meant everyone got a homemade Christmas present initially in the form of a Christmas Cake and then I added Jars of Jam and Chutney and made up hampers and people started to ask me for them and as they say the rest is history. I finally gave up my job in 2019 to do Annie's Delights full time.

Who is your food inspiration?
I do like James Martin, I have watched him from his early days of ready steady cook to the present and had the pleasure of meeting him in 2019 when he was filming, he was very down to earth.
What do you love about your job?
I don't classify it as a "job". They say you never work a day in your life when you enjoy what you do.

What is your typical day?
It varies from day to day as I make 23 different varieties of Jam and Chutney as well as 5 bakes but typically I make Jam/Chutney everyday during the week whilst I bake most weekends.

What was your best day since you started your business?
Gosh that's a hard one! If I had to pick one it would be getting listed with The National Trust.
For a small artisan producer like myself it was a great recognition to provide my Jams and Chutneys to the National Trust, It makes all the hard work and long hours worth it.

Where do your ingredients come from?
I grow a lot of my own fruit and vegetables for my Jam and Chutneys and living in the countryside I also forage for the likes of blackberries and crab apples. You cannot beat walking to the garden and picking what you need to cook with. Outside of that I source ingredients from small local producers and growers.

Tell us about the people you work with?
Well that's easy!! It's just myself, a one woman show.
I do all the making of the products but I couldn't do my markets without the help of my parents. You will find them at most of my regular markets.

What 3 words would you use to describe yourself/your business?
Relaxed – I don't like to get stressed out over things, doesn't get you anywhere or achieve anything. I just take things as they come. Flexible – you need to be able to adapt and change with the times.
Hard working – I always strive to produce the best that I can. Quality over quantity everyday.

What do you think is the key to success?
Hardwork and determination. I've never worked harder than I do now but when you enjoy it that is all that matters.
Has there been one single moment which has changed how you look at your business?
After minor ill health at the start of 2019 I decided to drop the 9-5 "rat-race" for something I loved. Annie's Delights became my fulltime career in September 2019 and I've never looked back. If you don't give these things a try then you will never know.