The arrival of Laura's daughter Florence in 2021 marked a new chapter in life, both working and personal for this Irish producer. A whole new business doing something she loves allows Laura to hold onto that passion of working in a kitchen to create something truly beautiful. Many producers when they start out are working on their own as they build the business but it seems Laura has worked the comradery of kitchen life into her network, not just looking to other producers for inspiration and support but making sure her local network is included in her day to day routine.
At Blas the awards are based on blind tasting, our judges review solely on the food they are tasting, they don't know who has made it or where it is coming from. This blind element is a key part of our judging to allow a level playing field for all. However, once the judging is done we love nothing more than learning all about the producers just like Laura from Lolos Picklery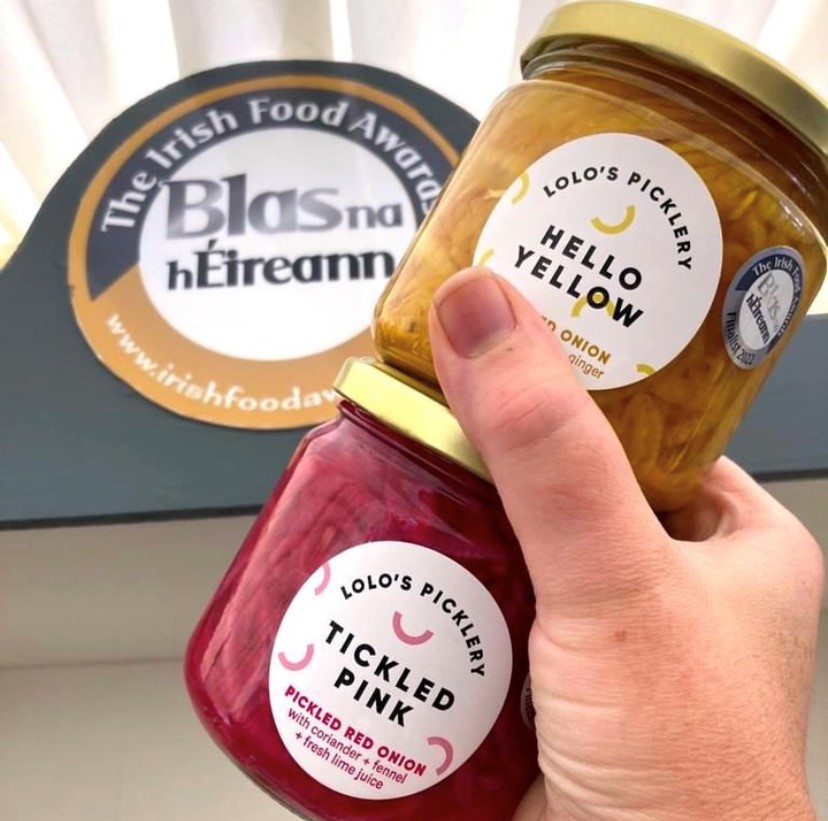 When & why did you start your business? 
I started this business in 2021 while on maternity leave with my first baba. I had been working as a chef for seven years and wanted a bit of a change: I wanted to have the flexibility of working for myself to help adjust to a new family lifestyle. I wanted to create something delicious that I am super proud of and passionate about. And I wanted to share my love of pickled condiments and how they can be used to enhance almost any meal. 
Who is your food inspiration? 
Other small Irish food producers that make delicious products inspire me all the time. Katie and Jasper from White Mausu, Harry of Harry's Nut Butter and Holly of Conbini have all paved the way for other small producers and shown that it is possible to make a living doing something that you love. 
What do you love about your job? 
Honestly, I love the meditative repetition of slicing onions, filling jars and labelling! It sounds crazy boring but there's something lovely about listening to a podcast or music and just getting in the zone and getting the job done! I also love corresponding with stockists and suppliers and doing business with other Irish businesses, this gives me so much pleasure. 
What is your typical day? (a combination of personal and business life!) 
My typical day starts with a cuddle and breastfeed with Florence, a cup of coffee and a slice of toast in the hand as I walk my ten minute commute down to my kitchen in Stoneybatter. I stop into Lilliput Stores for a chat and another coffee and head to my little production kitchen. I check through my delivery from Caterway and make sure I have all the ingredients I need for that day's production. I pop on my headphones and start slicing onions, toasting seeds, and weighing out vinegar. I take a break and grab something tasty for lunch, but I don't stop working for long. Generally I produce 200 jars in a day, and stack them up in crates for labelling the following day. Throughout the day I respond to order emails and calls here and there, updating my sales spreadsheet as I go. I pass the butcher and green grocer on my way home and pick up something for dinner. Florence sits on the worktop while I potter in the kitchen and the three of us have dinner together. I squeeze in a little yoga session at some point before spending the evening on the couch, either on my laptop sending invoices etc or watching an episode of something or other.  
What was your best day since you started your business? 
Oh without a doubt the day I found out two of my products were Blas finalists! 
Where do your ingredients come from? 
The onions are only Irish onions 75% of the year or so, depending on the season and availability. 
The apple cider vinegar is from The Apple Farm in Tipperary. I also use a small amount of imported white wine vinegar in one of the products to balance out the strong colour of the apple cider vinegar.
Tell us about the people you work with? 
It's just myself in the business, but the kitchen I rent is in Lilliput Trading Company so I'm surrounded by food enthusiasts and supporters of small food businesses, which is lovely. They're always there to help with deliveries, to introduce me to new stockists or suggest business ideas to me, so I'm super lucky. 
What 3 words would you use to describe yourself/your business? 
Imaginative, unique, versatile 
What do you think is the key to success? 
Adaptability! Being able to change direction, listen to criticism and advice and learn from mistakes. 
Has there been one single moment which has changed how you look at your business? 
Honestly, when two of the products were shortlisted for Blas awards it gave the business validation and made me think of it with more pride and confidence.