Rosemary & Jim from Tullahay Farm really celebrate their producers, the happy herd of fresians they look after in Tipperary. With a deep appreciation for natural ingredients and truly nourishing foods Rosemary has developed a range of soft cheeses and more recently whey drinks which really make the most of the milk they produce
At Blas the awards are based on blind tasting, our judges review solely on the food they are tasting, they don't know who has made it or where it is coming from. This blind element is a key part of our judging to allow a level playing field for all. However, once the judging is done we love nothing more than learning all about the producers just like Rosemary from Tullahay Farm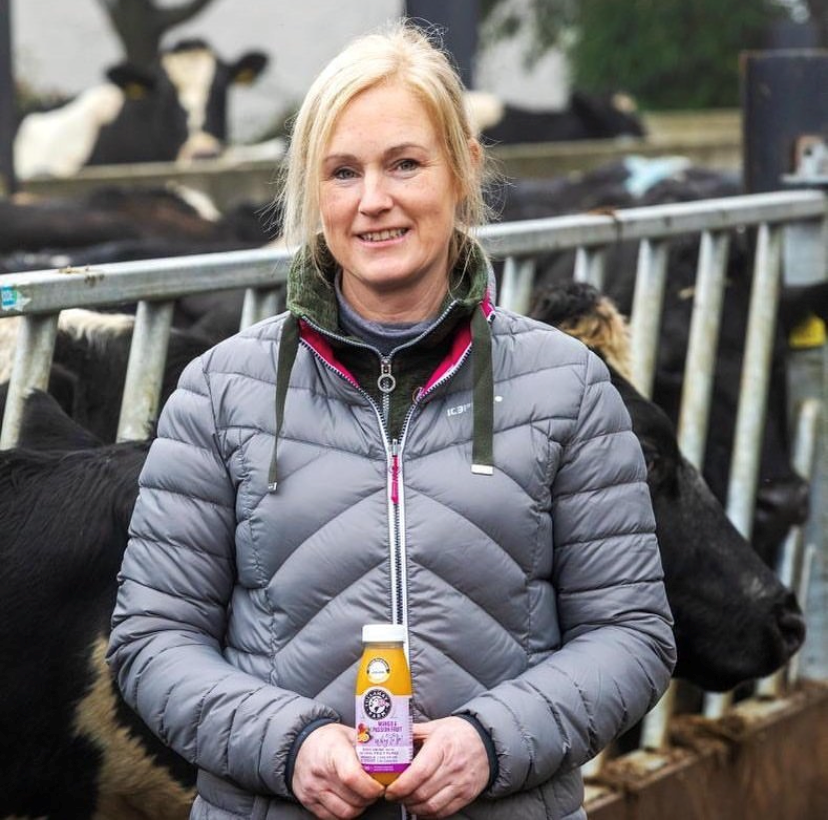 When & why did you start your business?
When I was younger we drank liquid whey daily as a probiotic tonic and to help with digestion.
It surprised me that there was no liquid whey drink brand in Ireland, considering the health benefits of liquid whey and so in October 2020 we launched our Tullahay Farm products, where we had two flavoured whey drinks and both natural and savoury soft cheeses.
Who is your food inspiration?
My mother always had really good ingredients in the house, there was always good vegetables and meat, she made everything from scratch and makes the best brown bread. It was only when I began cooking for my own family, that I realised how well nourished we were with hearty healthy food.
What do you love about your job?
I Love being in production, as I feel I am doing what I always wanted to do, to make healthy natural products using the milk from our own herd of cows. Having won so many awards in our short time in business gives us great confidence in our products.
What is your typical day?
I start the day off with a 2km walk just after 6am, I feel this sets me up for the day. At 6.30 am, I leave out our hens, feed the pony and calves and at 7.30 its breakfast with our girls and drop to school. I begin work in my production unit once dinner is on (usually something in the slow cooker) I usually spend Monday and Tuesday fully in production with deliveries on Wednesday and any paperwork or emails are sorted on Thursday. At lunchtime I catch up with my husband! Late afternoon is back at school for collections, home for dinner and back up to the farm for evening chores. In the evening we all go for a walk for a family catch-up.
What was your best day since you started your business?
My best day since I started my business would have to be attending the Blas na hÉireann event in Dingle as since I began my business this event was only online due to Covid. The atmosphere was electric in Dingle and we were so excited to find out we won a Gold award for our "Fresh Whey with Irish Apple Juice" and a Bronze award for our "Tullahay Farm Natural Soft Cheese".
Where do your ingredients come from?
Milk is our main ingredient which comes from our own herd of Friesian cows. We operate a closed herd which means all our cows have been born on our farm. The Apple Juice we use is from Con Trass ,The Apple Farm in Cahir, another Tipperary Food Producer. The rest of our ingredients we get through La Rousse Foods.
Tell us about the people you work with?
Jim, my husband milks and looks after the health of our gorgeous cows. These wonderful animals produce our main ingredient, fresh milk and Jim is an expert at keeping our cows healthy and happy. I collect the fresh milk to produce into our range of soft cheeses and fruity whey drinks.
What 3 words would you use to describe yourself/your business?
Hardworking, grounded and fun-loving
What do you think is the key to success?
Using milk from our own happy herd which guarantees consistency of quality in our products.
Has there been one single moment which has changed how you look at your business?
Getting interest from other countries about our products has made us look at where we want to go with our business "small wins lead to big wins"