One of the important elements of the awards is the beautiful glass from Dingle Crystal. Although we won't be gathered together this year to present the glass to our winners we want to be sure that every winner for this year receives their award despite us not gathering together for the presentation.
If you are announced as a winner on the weekend we want to be sure we can get your award to you as soon as we can and allow you to make the most of the press opportunities following the awards.

For our winners, we are working to arrange to have the awards either available for pick up in their county from the Monday following the awards or delivered direct via An Post. This will differ county by county.
In some counties, based on geographical spread and ease of access we have arranged to deliver direct via An Post.
In some counties we have worked with our colleagues in the industry to arrange a central collection point. This will allow a few things;
– Firstly, a space which is safe and accessible for collection
– Secondly, we will be working with local press in each county to arrange to have a photo opportunity to capture the moment when a winning producer collects their award.
Please note that some details are still being confirmed so check back here for final details
All winners will be sent details of photo guidelines so if you are a winner whether glass is delivered direct or collected we will ask you to share images with our PR team so we can share on your behalf with our local news releases.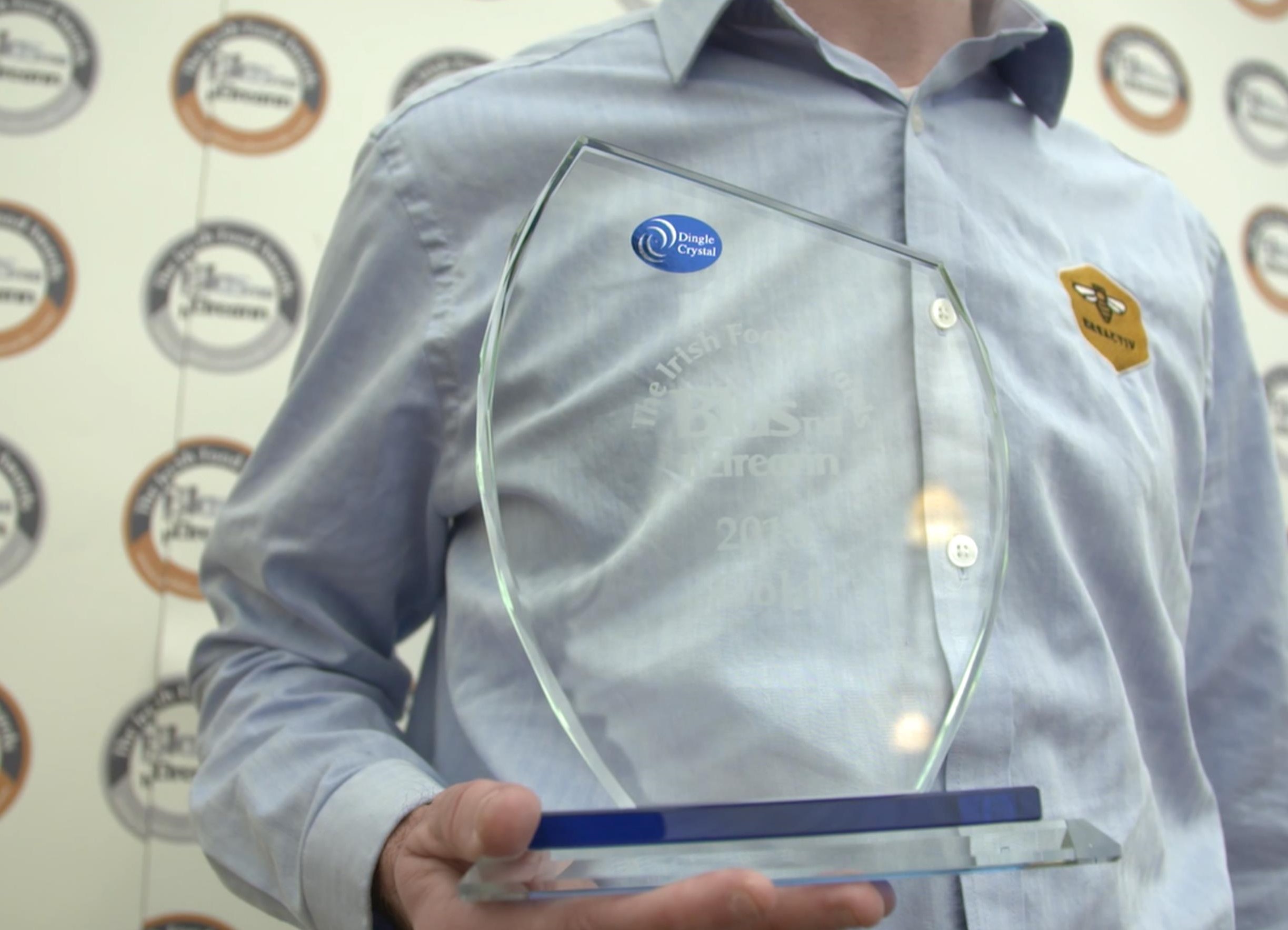 Please note on the times listed below – This is an ideal time to collect as local press has been invited at this time. You do not have to collect at this time, you can contact us if you cannot make your time and we will arrange an alternative.
| | |
| --- | --- |
| Antrim | Invest NI will be in touch with winners directly to arrange |
| Armagh | Invest NI will be in touch with winners directly to arrange |
| Carlow | Awards will be delivered direct via An Post |
| Cavan | Tuesday 5th October at 2pm – Cavan County Council Offices |
| Clare | Monday 4th October @ 10am – Burren Smokehouse |
| Cork | Awards will be delivered direct via An Post |
| Derry | Invest NI will be in touch with winners directly to arrange |
| Donegal | Monday 4th of October @ 2pm at Local Enterprise Office, Ballyraine, Letterkenny, Co.Donegal |
| Down | Invest NI will be in touch with winners directly to arrange |
| Dublin | Awards will be delivered direct via An Post |
| Fermanagh | Invest NI will be in touch with winners directly to arrange |
| Galway | Wednesday 6th @ 10am- McCambridges Galway |
| Kerry | Tuesday 5th @ 10am – Blas Office, Dingle |
| Kildare | Awards will be delivered direct via An Post |
| Kilkenny | Monday 4th @ 1pm – Parade in front of Kilkenny Castle (co-ordination with Mag Kirwan) |
| Laois | Awards will be delivered direct via An Post |
| Leitrim | Awards will be delivered direct via An Post |
| Limerick | Monday 4th October 3.30pm – Woodlands Hotel, Adare – Co-ordinated with Limerick LEO |
| Longford | Awards will be delivered direct via An Post |
| Louth | Monday 4th Oct @ 3pm – Town Hall Dundalk, Co-ordinated with Louth LEO |
| Mayo | Tue 5th Oct – 11am – Mayo House, Moneen Road, Castlebar, County Mayo, F23 N504 |
| Meath | Monday 4th @ 11am – Meath LEO, Buvinda House, Navan |
| Monaghan | Awards will be delivered direct via An Post |
| Offaly | Awards will be delivered direct via An Post |
| Roscommon | Awards will be delivered direct via An Post |
| Sligo | Sunday 3rd October – 11am – Strandhill People's Market |
| Tipperary | Tue 5th Oct @ 10am Oakville Shopping Centre, Upper Gladstone St, Burgagery-Lands East, Clonmel, Co. Tipperary, E91 FX58 (Co-=ordinated with James Whelans) |
| Tyrone | Invest NI will be in touch with winners directly to arrange |
| Waterford | Awards will be delivered direct via An Post |
| Westmeath | Awards will be co-ordinated with Westmeath LEO |
| Wexford | Wednesday 6th October – 10am – Dunbrody Famine Ship, New Ross co-ordinated with Wexford Food Family |
| Wicklow | Monday 4th @ 4pm – Powerscourt Distillery |