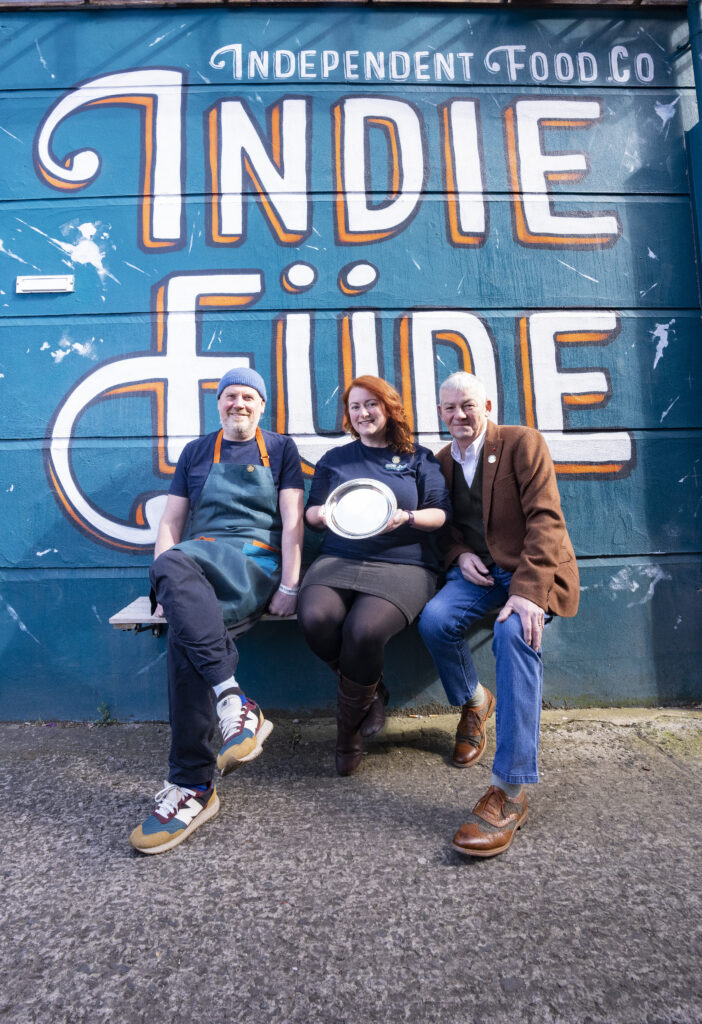 Indie Füde, Independent Food Co. in Belfast has been named as Blas na hÉireann Producers' Champion for 2022 with business partners Laura Bradley and Johnny McDowell noted for their dedication to the best of everything Irish and independent.
The Producers' Champion is selected annually by Blas na hÉireann producers, based on a survey that goes out to the entire Blas network — a network that covers every county in Ireland with producers from across the food industry.
Nominees for Producers' Champion are put forward by producers early in the year, asked to nominate those they believe are representing and supporting their produce and the produce of other Irish food makers and growers in an effective and helpful way.
The 2022 Champion, Indie Füde started out as an online business in 2014 created by Johnny McDowell, an accountant with a passion for sourcing and selling the finest Irish food and ingredients. Johnny connected with former food blogger and now business partner Laura Bradley on social media, inviting her to test some of his finest products at a new pop-up shop he had established. After becoming a regular customer and with her valuable expertise, Johnny invited Laura to work for him and they haven't looked back since.
The incredible selection of local produce proved so popular that Indie Füde moved to a larger, high street location in 2018. Indie Füde Comber is in the heart of the community and is packed full of over 700 independent artisan Irish products with the team there hosting regular tastings and meet the maker events.
Following their huge success in Comber, Johnny and Laura opened "The Cheese Edition" on the Ormeau Road in Belfast in December 2020 where the focus is mainly on the very best of Irish cheese and where every member of the team is also a member of the Academy of Cheese, meaning all customers have the experience of benefitting from in-depth knowledge about cheese and cheese makers as they shop (with the added bonus of coffee and treats too!)
"Indie Füde wouldn't exist without the incredible producers we stock in both our shops and online store," says Laura Bradley, "so it's a wonderful thing to be voted Producers' Champion by the very people who brought this business to life, and we are so happy and proud that what we do at Indie Füde is valued and recognised by the producers we work with every day."
"It's fantastic to be named as Blas na hÉireann Producers' Champion for 2022," adds Johnny McDowell. "We love being at the centre of the community in both Comber and on the Ormeau Road with the opportunity that brings to showcase some of the exceptional Irish produce available on the island. We're honoured to be part of the Irish food scene and it's a pleasure to have our efforts acknowledged in this way. Working with our amazing team who are just as passionate about Irish food as we are is a joy, as is working with the wonderful extended community of artisan producers from all over Ireland."
"Johnny and Laura at Indie Füde are so deserving of this award," says Artie Clifford, Chairman of Blas na hÉireann. "We saw a big trend in nominations this year towards independent retailers, which was an interesting shift in emphasis. Producers themselves know the value that having stock on shelves can do for their product and having independent retailers investing in and believing in them — that commitment is priceless. I think consumers have reconnected with their local independent retailers over the past two years too, and value the knowledge and appreciate the time they get when they shop local. This is a really positive sign and with people like Johnny and Laura leading the charge in expertise and commitment to Irish producers, everyone is a winner."
Joining past Producers' Champions like Simon Coveney TD, Neven Maguire, John & Sally McKenna, Shane McArdle, Kai's Jess Murphy, Darina Allen, Rory O'Connell and Rachel Allen and last year's winner, Brian McDermott, Johnny and Laura at Indie Füde are keeping very good company indeed.
Final call for entries to Blas na hÉireann 2022 – closing date is 20th May and costs €80 per entry (ex VAT).https://www.irishfoodawards.com