Innovators, educators and Irish food ambassadors, Darina Allen, Rory O'Connell and Rachel Allen voted Blas na hÉireann 2020 Producers' Champions
Every year, Blas na hÉireann surveys Irish producers asking them to nominate their Producers' Champion for the year and in 2020, Darina Allen, Rory O'Connell and Rachel Allen have been chosen collectively as the year's joint Blas na hÉireann Producers' Champions.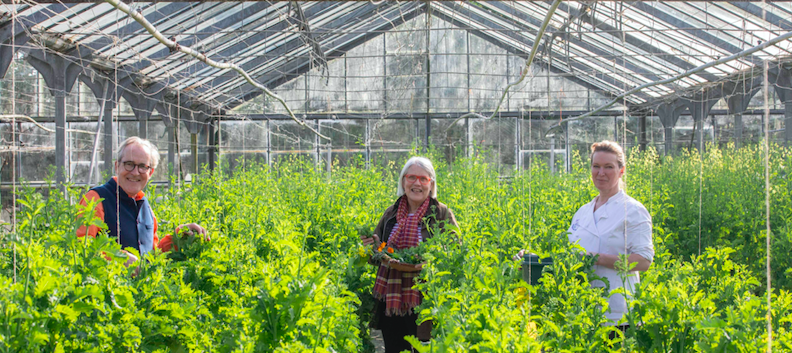 Joining past Producers' Champions and heroes of the Irish food industry like An Tánaiste and Minister for Foreign Affairs and Trade, Simon Coveney, Neven Maguire, John & Sally McKenna and Kai's Jess Murphy, the 2020 Producers' Champion honour is voted for by Irish food producers when asked who they feel is doing the most to support Irish food both at home and abroad.
There was a very clear theme from this year's survey that reflected an appreciation of the late Mrs. Allen's legacy at Ballymaloe and of Rory, Darina and Rachel, in their individual and collective roles, continuing that legacy as innovators, constant supporters of the best Irish ingredients and producers, and educators of the next generation of cooks and growers.
Darina Allen and her brother Rory O'Connell established Ballymaloe Cookery School in 1983, the world-famous cookery school on an organic farm which has been producing home chefs and professionals to be found in kitchens all over the world for over 37 years. Rachel Allen studied at Ballymaloe herself before joining the team as a teacher, and all three are key members of the core teaching team at the Cookery School.
All three are exceptional teachers and also cookbook writers and tireless ambassadors for Irish food both at home and abroad. They are well respected voices on multiple aspects of the food from Slow Food and Farmers' Markets to traditional techniques and sustainability issues. Advocates of the importance of children learning how to grow and cook food. They share their expertise through their many award-winning TV programmes.
Often dubbed the Oscars of Irish food, Blas na hÉireann, the Irish Food Awards is the largest food awards on the island, open to all 32 counties, with judging taking place during June and July, finalists notified in August, and finalist judging in Dingle, the home of the awards, in October. With workshops and masterclasses in Dingle, final Blas na hÉireann 2020 awards will be presented alongside producer networking events during the Dingle Food Festival, always an unmissable event for food lovers.
"I know I speak for Rory and Rachel when I say we are thrilled to be announced as Blas na hÉireann 2020 Producers' Champions." said Darina Allen. "In this current global crisis, industry celebrations like Blas are needed now more than ever to highlight the great effort of our food community, the importance of good food and the many talented producers we are lucky to have on the island. People in the sector have been through tough times before and the resilience, ingenuity and hard work of Irish makers, growers and producers make them a force to be reckoned with. We look forward to being in Dingle in October to continue to celebrate and support all that is great in Irish food."
"Our goal at Blas na hÉireann has always been to help Irish producers to tell their stories," says Artie Clifford, Chairperson and founder of Blas na hÉireann,
"something our three Producers' Champions have been proudly doing themselves for many years. Their in-depth knowledge and showcasing of Irish products, producers and their narratives has helped bring valuable attention to the sector.
Winning a Blas award has a similar impact in marking a product or producer out as special and worth exploring and has been shown to work for our previous winners in bringing them to the attention of food-lovers both at home and abroad. We are looking forward to doing it all again for Blas na hÉireann 2020, in a time that has its own unique challenges, and we hope to welcome food lovers and our 2020 Producers' Champions to Dingle in October."
Entries for Blas na hÉireann 2020 are now open online at the discounted early bird fee of €60 per entry (ex VAT). The early bird discount has been extended to 30th April. The full entry fee, applicable from 1st May to 25th May is €75 per entry (ex VAT).