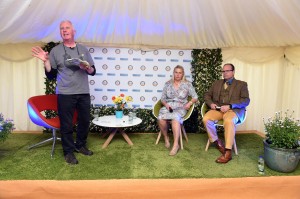 As a result of a hugely successful event during the 2017 awards and in response to demand from producers, the Blas na hEireann team is delighted to announce that it is taking the Backyard at Blas on the road.  Backyard at Blas is an innovative space for individuals in the food and drink industry to meet fellow producers, gain knowledge and find support for your business.  Its objective to help producers grow and develop on a personal and professional level by hearing about the experiences of others, is complimented by an interactive platform that allows for networking.
Set in a relaxed, informal venue, hot topics are covered with industry leaders and experts in a number of engaging conversation panels followed by Q&As.  Throughout the day, attendees have the opportunity to grab a coffee and chat with key people and fellow producers. Lunch is also served.
The Backyard at Blas is on the road and coming to
The Seamus Ennis Centre in The Naul, Co Dublin  26th June
Press-ing Needs – how to get media coverage with a minimum budget and a little effort
Expanding on a hugely successful panel at the inaugural Backyard this event will focus on getting your story straight. If you can't get your story across, you can't sell your product. You need to be able to catch a journalist's attention and know what they are looking for. It is devilishly difficult to get coverage these days but knowing what the media looks for is half the battle. So, too, is responding quickly to their requests and not badgering people. There is a world of difference between being dogged and being pushy.

Airfield Estate, Dublin 27th June 
Distribution & Logistics – how to get your foot in the door at home & abroad
This event will look at the challenges involved, from initial meetings with buyers (including how best to prepare and to understand your category) through to the logistical challenges of expanding your delivery network.
Full details are yet to be announced. As the events will have very limited places you can register your interest now, you will be offered first option to book the tickets as they go on sale
Register your interest to attend by sending your name and email through the online contact form