Anahorish Preserves won a Bronze award at the 2015 awards for Malachy's Winter Chutney. You can find out more about Anahorish Preserves on www.anahorish.com or to find out more about this and other winners and finalists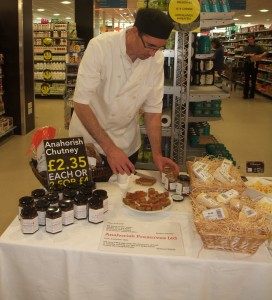 you might like to check out our 2015 directory.
In Malachy's own words…
Food has always been an important part of my life.  I was born on a pig farm and as a result I have always had an interest in food.  My two food inspirations were my Dad and Mum.  My Dad had a great knowledge of livestock and meat and he showed me how to cook a "Fillet Steak bleu" (or properly – "Not too much of the Fire" in his words).  My mum like lots of Irish mothers is a great baker and my childhood was full of homemade soda bread, wheaten bread, apple pie, buns and cakes.  My cousin and I also began cooking at an early age over an open fire down an old disused railway – it was a makeshift barbecue of a few bricks and some reinforcing mesh on which we cooked sausage and bacon (pinched from our mum's fridges).   As well as producing the preserves I make bread, ice cream, scones, pizza's, Pies etc. for my 4 children and most honest critics!
I started Anahorish Preserves in 2009 – I had been making chutney as a Christmas gift for a number of years and following encouragement from some of the recipients I began to produce it commercially.  I now make a range of chutneys, jams and relishes.  I have to mention Robert Ditty of Ditty's bakery in Castledawson – he gave me an opportunity to talk at a bread event he was hosting and this resulted in me getting my product into his shops and into a local independent supermarket – he has been a great support.
I love taking a few raw ingredients like cider vinegar, chillies and sugar and creating a Sweet Firey Chilli Jam.  It is amazing to be able to blend ingredients into a product that people are happy to pay money for!  I get a real buzz watching people in the local supermarket putting my products into their trolley.
The business is currently operated on a part-time basis – Saturdays are pretty mad. On a typical Saturday I get up around 5am and begin cooking and usually finish around 6 or 7 pm.  It is a day full of cooking jarring and cleaning.
I grow my own rhubarb and apples and I get some fruit from local people who have their own gardens other fruit comes from Northern Ireland based wholesalers.  Most of the fruit and vegetables for the chutneys and relishes come from Quinfresh who also prep the ingredients for me.  I pass the business on the way home from work so I can order and collect them on a Friday evening.
– 3 Words I would use to describe my business are: Honest, Creative, Ambitious
– I think the key to success is to use the best ingredients to produce proper honest food.
– Winning Bronze in Blas na hEireann helped me to believe more in what I am trying to build!