Update 12th December – The Blas Box for 2021 has sold out. Thank you to everyone who has ordered.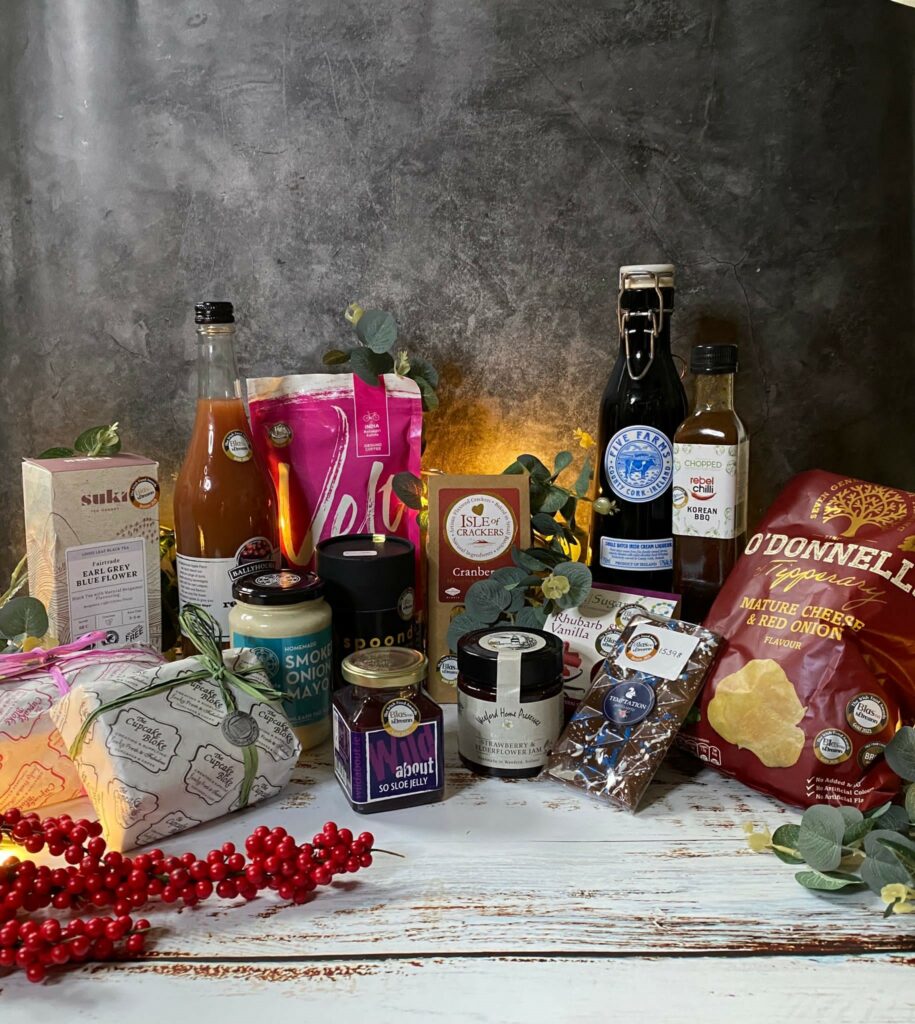 In 2020 for the very first time we put together a Blas Box. With a selection of the best of Blas winning products from over the years, the Blas Box is the ultimate gift for the food enthusiast and in 2020 we completely sold out!
This year we have another beautiful selection of past winners, it represents the very best of Irish food and drink and includes everything you might need for your Christmas larder from boozy drinks to hot drinks, sweet treats and savoury goodies.

This year's Blas Box has sold out, if you would like to receive an update when pre-orders open for 2022 drop us a line to info@irishfoodawards.com
2021 Blas Box
Important things to know….
Blas Box is €135 per box which includes delivery to anywhere in Ireland
The delicious selection, chosen specifically for your Christmas larder is as follows;
Drinks
Five Farms Cream Liqueur (Cork) Gold 2021
plus a Valentia Vermouth (Kerry) Bronze 2021 (100ml)
plus Ballyhoura Mulled Apple Juice (Limerick) Gold 2021
Hot Drinks
Earl Grey Blue Flower – Suki (Antrim) Gold 2021
Velo Coffee (Cork) Gold 2020
Spoon'd Malted Milk Chocolate (Dublin) Gold 2021
Sweet
Sloe Jelly – Wild About (Wexford) Gold 2021 and Supreme Champion Winner!
Caramel & Sea Salt Bar – Temptation Patisserie (Laois) Gold 2021 (& Best Start Up & Best Artisan)
Chocolate Biscuit Cake – The Cupcake Bloke (Dublin) Gold 2020
Handmade Sweets – SeaSugar (Antrim) Gold 2021
Strawberry & Elderflower Preserve – Wexford Home Preserves (Wexford) Gold 2021

Savoury
Korean BBQ Sauce from Cork! – Rebel Chilli (Cork) Gold 2021
Irish Red Onion Relish – Wexford Home Preserves (Wexford) – A special Christmas choice from multiple winners 2021
O'Donnells Cheese & Onion Crisps – O'Donnell's (Tipperary) Gold 2021
Smoked Onion Mayo – Búilín Blasta (Galway) Gold 2021
Cranberry Crackers – Isle of Crackers (Wexford) Gold 2021
This year's Blas Box has sold out, if you would like to receive an update when pre-orders open for 2022 drop us a line to info@irishfoodawards.com